Elegant country properties for sale in Puglia, among the wonderful olive groves
A quick glance at the Apulian countryside is all you need to understand that olive trees are undoubtedly one of the landscape's most characteristic elements.
The region may well be the area with the highest number of olive groves in the world.
You can see it with your own eyes at our country properties for sale in Puglia.
Here, nature is home to countless species of plants, trees and flowers… in short, the Apulian countryside is pure magic.
However, olive groves are not mere decoration: the amount of olive oil produced in Puglia accounts for 40% of Italy's entire production, which means that olives play a key role in the regional economy.
Olives are so typical of this area that many different types of olive oil are produced: Puglia is home to four DOP areas of protected origin.
The taste of Apulian olives and olive oil is special and it's not by chance that people from all over the world appreciate this product so much.
Olive trees and olive oil have extremely ancient origins and have always been considered precious: in 2500 BC the trade in olive oil was already flourishing and the product was used as an ointment and medication, while the branches were used to adorn the tombs of pharaohs.
Olives and olive oil today play an important role in the Mediterranean diet because they offer many healthy properties and benefits. Olive oil is used to preserve and season vegetables and other dishes (as well as olives). It is also used to prepare many typical recipes, such as orecchiette, focaccia and bruschetta, to name but a few!
Experience a new lifestyle in our countryside houses for sale in Puglia!
If you purchase one of our homes for sale in Puglia, you are choosing not just to come and live here: you are also choosing to discover the essence, traditions and magic of this wonderful region.
What are you waiting for? Contact us for a quote and live your dream!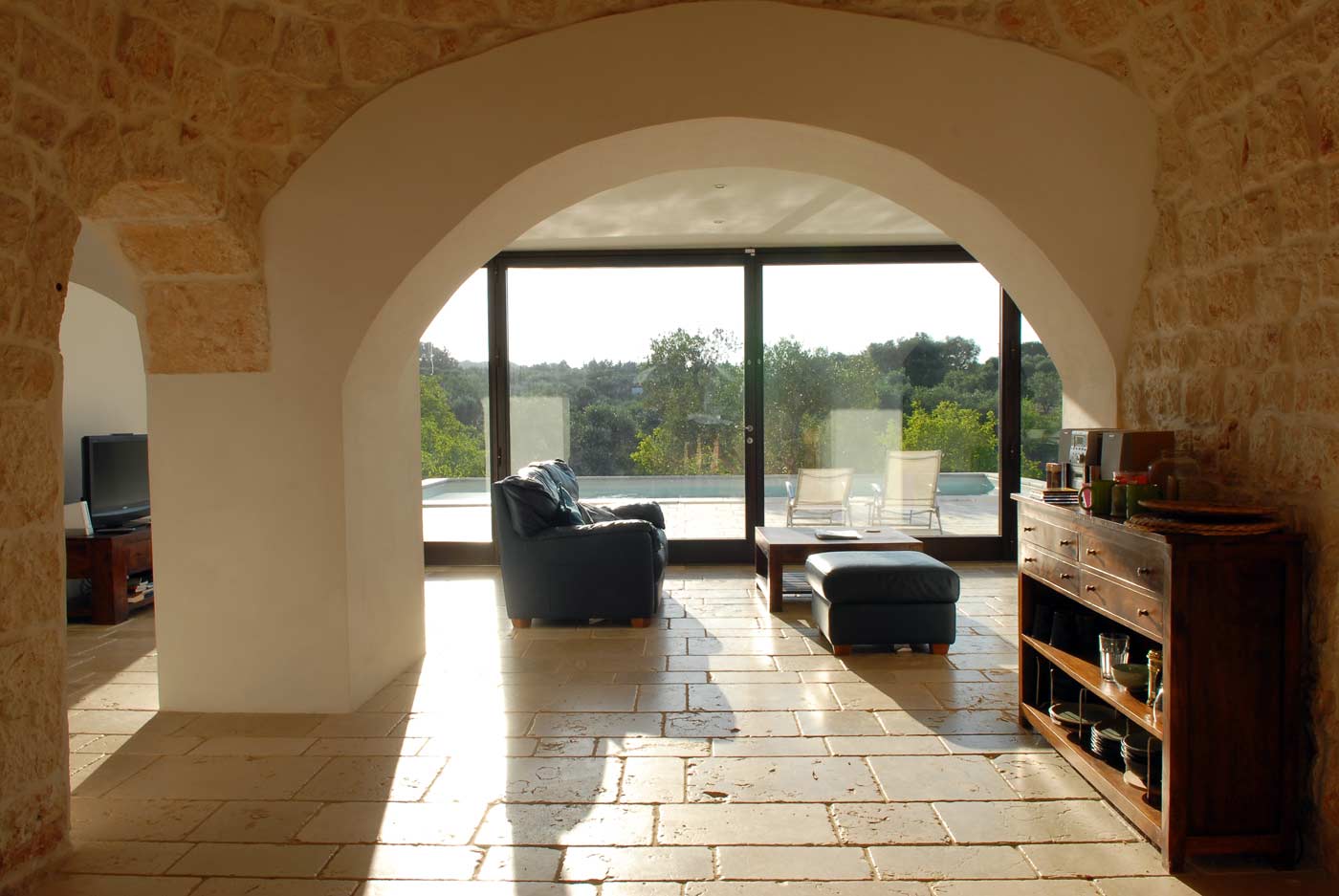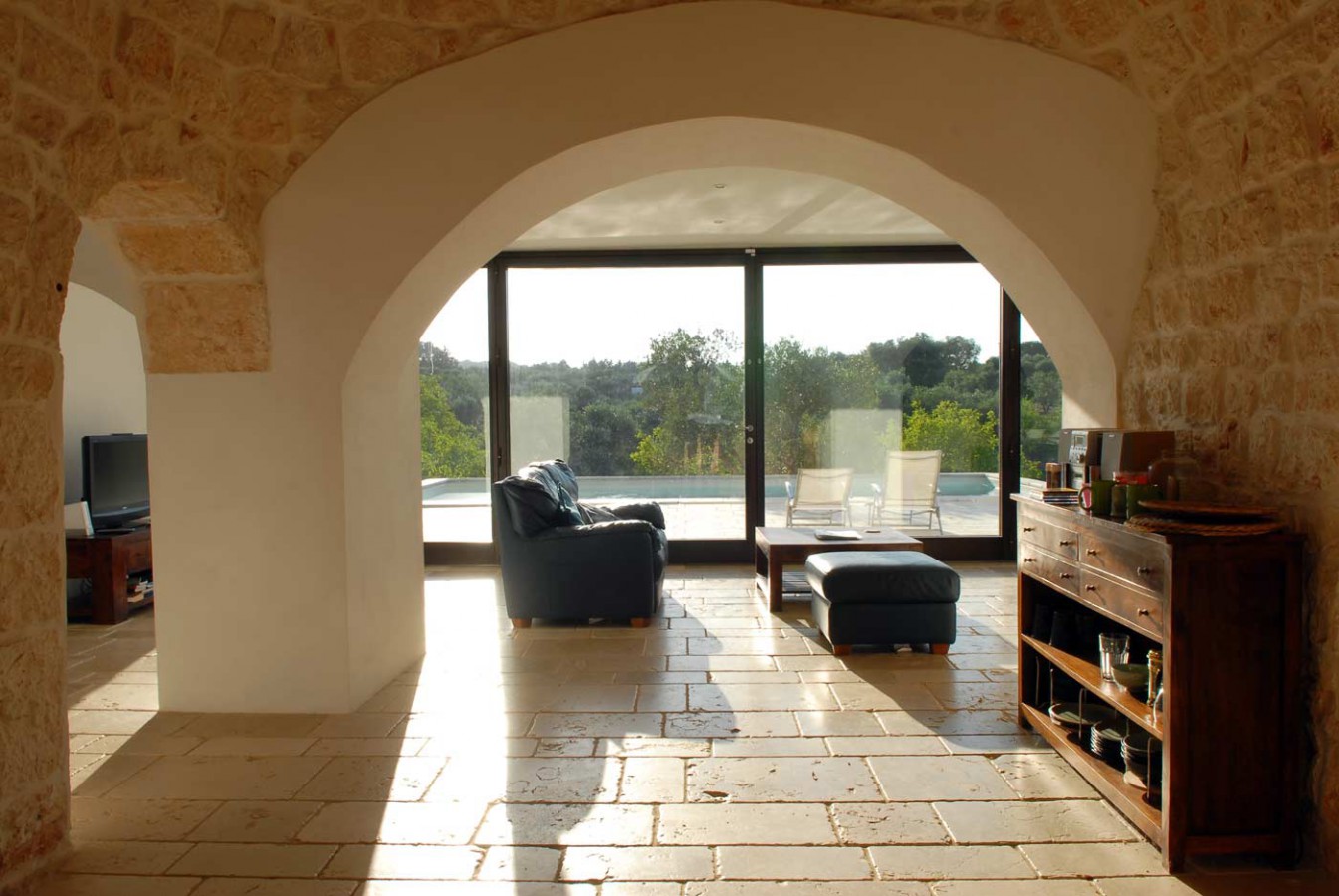 Country houses for sale in Puglia: have you ever considered changing your lifestyle?
The amazing views and landscapes of the Apulian countryside have magical powers: they can lift your heart and mind.
With sparkling colours, fragrant scents and relaxing sounds all around you, it's impossible to feel sad or worried. So, it's time to think about looking for modern country houses for sale in Puglia!
The country life is perfect for recovering your inner balance, peace of mind, zest for life and general well-being.
In fact, living in the countryside can also have a positive impact on your body.
There are countless activities you can do while surrounded by unspoilt nature in order to keep in shape, but above all… …you're in Puglia, the land of fine food!
Enjoy everything you need for correct nutrition while benefitting from healthy foods, naturally tasty produce and simple, delicious recipes.
You must have heard about the famous Mediterranean diet, typical of Southern Italy, which even became UNESCO heritage listed in 2013.
This diet includes a variety of foods and nutrients, which is exactly what makes it so healthy.
Cereals, pulses, fruit, vegetables and olive oil represent the main food groups; the consumption of fish, dairy products and wine is recommended in moderation, while meat is kept to a minimum.
A positive impact on health depends on the high consumption of vegetables (which reduces feelings of hunger) and a perfect balance between the nutrients. Several studies have shown that this way of eating can reduce the risks of cancer and heart disease. Blood pressure is lowered as well as levels of cholesterol, triglycerides and sugars in the blood. The consumption of cereals prevents constipation and colon disorders and, generally speaking, the Mediterranean diet provides our body with all the proteins, vitamins and minerals we need.
Apulian cuisine offers countless ways to combine these ingredients to create delicious recipes: your palate will be satisfied while your body, health and shape will be grateful.
If we were you, we'd start searching for beautiful country houses for sale in Puglia right now.
You see, living in Puglia is always a good choice, even when it comes to food!
The landscapes and stunning views make life in the countryside truly magical.
Add a special house with a modern style and all the comforts of a townhouse and it's hard to believe that a life like this could be real. But it is!
So, don't hesitate any longer! Contact us for a quote.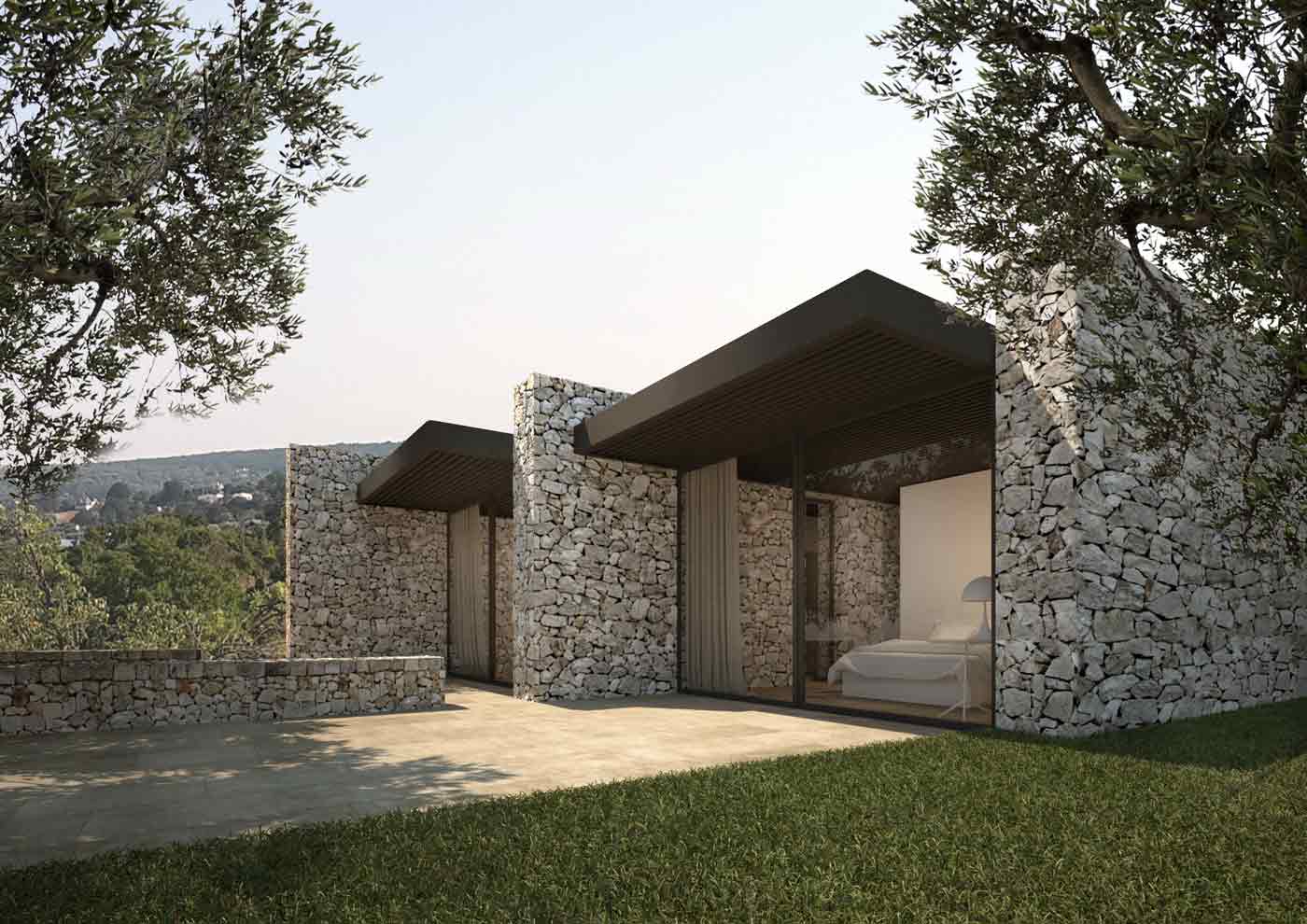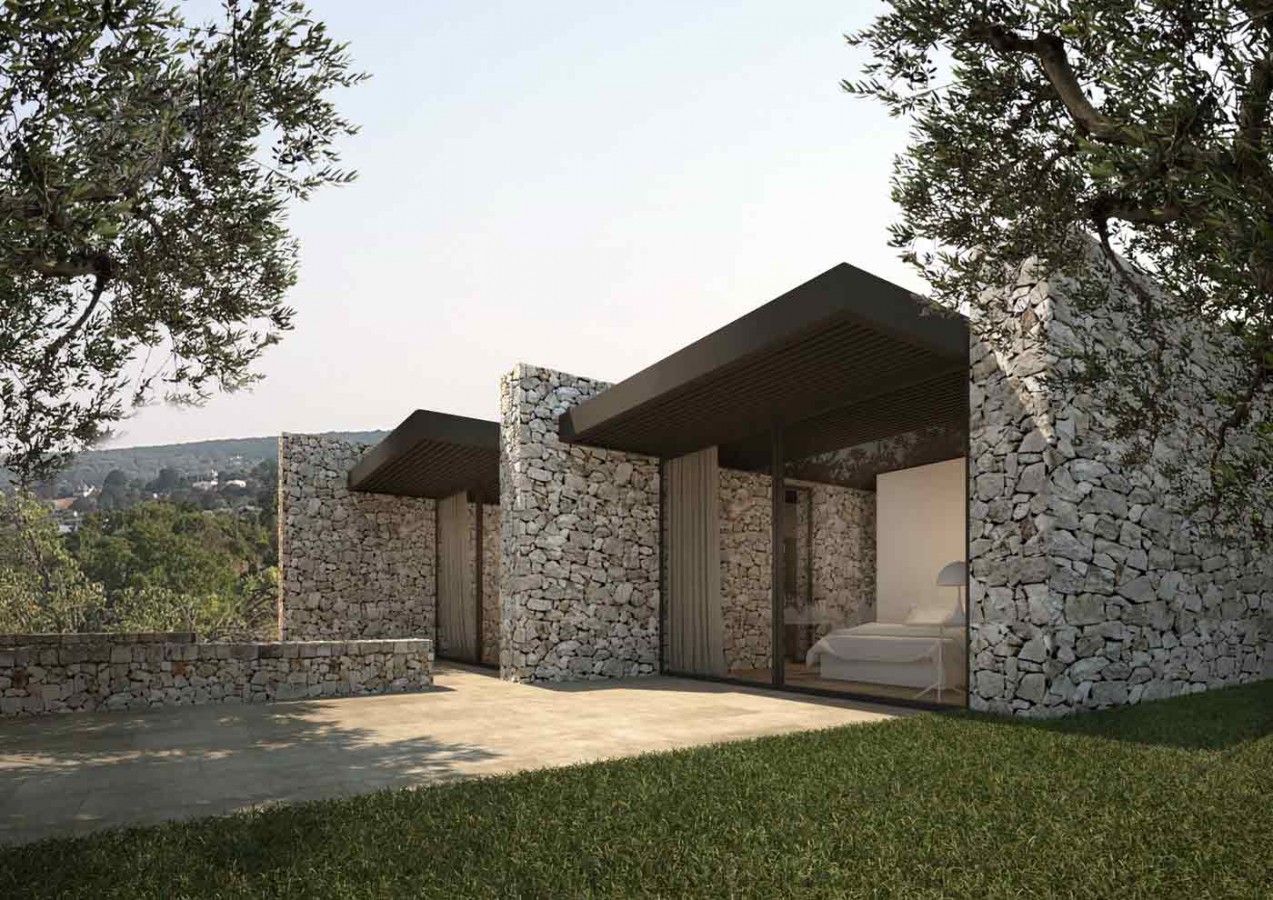 Are you looking for renovated houses for sale in Puglia?
Would you like to own a property in the countryside of the Itria Valley? Are you searching for an amazing natural setting for your home?
You've come to the right place!
Apulia Property Design offers fantastic houses surrounded by the breath-taking landscapes of the "heel" of Italy. The professionalism of its architects and designers makes it possible to create unique projects in a dream location.
Their style is modern, elegant and refined, and includes all the comforts of a townhouse in a natural setting that embodies the very essence of Puglia.
The "heel" of Italy is a region that offers great value, not only in terms of its scenery but also for the quantity of the resources available locally.
By sheer coincidence, one of the most common is of vital importance as a construction material: stone.
Used for some of our renovated houses for sale in Puglia, it allows us to give you a final product that is Apulian through and through!
The largest quarries can be found in Apricena, Trani and Lecce, but Fasano and Ostuni also offer significant quantities of material.
The availability of marble and stone depends on the geological composition of the Apulian soil, which is rich in limestone. Thanks to the strong presence of this resource in the region, Puglia plays a significant role on both the domestic and international markets.
Historically, the limestone deposits in Trani were the largest and Trani stone is the most widely used material in Puglia. This makes it very easy to find in many historic centres and even in Romanesque cathedrals and Swabian castles.
Trani stone is compact and ductile, allowing it to be used externally and in areas with marked thermal excursion.
We choose the best for our elegant homes for sale in Puglia
The combination of all these features make precious Puglian stone an unmistakeable choice as a building material for our projects and one that adds further value to our houses. We aim to give our customers something unique, because we think everyone should have the chance to live in Puglia.
Contact us for further information and treat yourself to a jewel of a property!
Modern villas for sale in Puglia: a peaceful life in the unspoiled countryside
The rapid progress we've witnessed in recent decades appears to be a good thing and people are convinced that their lives are better than before.
It is certainly true, but… we bet we all sometimes feel as if something is missing: the happiness of smelling a flower, the smile brought about by birdsong, the astonishment we experience when we look at the sky, the love we feel when we cuddle a cat… we miss the simple little things.
Life is more and more chaotic and we frequently find ourselves thinking about relaxation…
As we go about our everyday business, we fantasise about lying on a sun lounger by the pool while sipping our favourite drink, listening to our favourite music or reading our favourite book. We think about fantastic villas, perhaps with a patio for dining or enjoying a glass of wine outdoors with our best friends on hot summer evenings…
That's exactly what our modern villas for sale in Puglia can offer
Contact us for your real-estate investment in Puglia
Apulia Property Design is in the business of making these fantastic dreams come true, helping you feel as if you have been transported to paradise.
Our modern villas for sale in Puglia are designed by highly-qualified professionals who work with meticulous care and attention to create unique spaces. They are able to meet all your requirements. Do you want your country house to have the same style and comforts as your urban pad? Or do you want to go back in time and live in a house with stone walls and floors?
One thing is certain: when you look out of the window, you won't believe your eyes. The beauty of the landscape is so outstanding that you might think you were looking at a painting hanging on a wall rather than a window.
But when you go outside, you can see for yourself that everything is real: you can sit down on a stone bench, surrounded by soft cushions, and admire the nature all around you, the flourishing meadows and lush gardens… you might even think you were dreaming!
Contact us right away and let Apulia Property Design make your dreams come true.