Renovation projects for sale in Puglia: the essence of both the countryside and the sea!
The landscapes, atmosphere and climate of the place in which you live can say a great deal about your personality.
Some people adore the countryside, others love the mountains and others still prefer the sea. Some people like hot countries while others prefer cooler regions.
However, this preference is not always so marked.
If you fall into the category of those who like both the countryside and the sea, Puglia is perfect for your needs. In fact, our renovation projects for sale in Puglia give you the opportunity to experience the essence of the Apulian countryside while still being within easy reach of many seaside towns that boast wonderful, crystal-clear waters.
In this respect, it's impossible not to mention Fasano and its surroundings, some of which offer fantastic beaches that are often awarded Blue Flag certification.
In Savelletri, for example, spectacular rocky and sandy beaches alternate, becoming magical places to relax and sunbathe during the summer. Also during the warmer months, you can take a stroll to the Sunday market. Breathe in the typical air of a coastal town with a visit to the small port where you can sense the village's fishing traditions. It's not by chance that Savelletri is home to numerous fishmongers and restaurants where you can sample delicious seafood dishes. Sea urchins represent one of the most widely consumed and popular foods, especially from February to April and from July to October. You can find and taste them in virtually every restaurant.
A "tasty" and relaxing lifestyle in our homes for sale in Puglia!
Once you have fulfilled your longing for the sea, you can return home to the unspoilt Puglian countryside. Our renovation projects for sale in Puglia will give you the chance to live in a modern house with every possible comfort, but in the heart of a stunning landscape: a veritable remedy for the stresses and strains of everyday life!
Make the best investment of your life! Contact us for a quote or more information.
Come and live in one of our homes for sale in the Puglian countryside: the best way to stay fit and healthy!
Living in the Puglian countryside brings great benefits. There is no doubt that contact with nature improves your mood and vitality, as well as boosting your immune system. Being surrounded by bright colours and fragrant scents is a true privilege and a medicine in its own right.
Also, if you enjoy keeping fit, you will have plenty of opportunity to stay in shape with your favourite sports. For example, exploring the magical region of the Itria Valley by bike is an exhilarating experience that will fill you with a sense of freedom. Long, leisurely rides are perfect for enjoying the fresh air, admiring the fantastic landscapes and visiting amazing places. The location of our homes for sale in the Puglian countryside is perfect for all this.
Several itineraries allow you to experience some of the most beautiful parts of Puglia. These projects have been designed to safeguard the landscapes and promote the use of bikes, because everyone agrees that Puglia is too stunning to be spoilt!
One of these itineraries starts in Carovigno and ends in Fasano, where the Via Traiana and the Via Appia (two ancient roads that date back to Roman times) are like travelling back in time.
Between the two towns, you will cycle along picturesque roads lined by olive groves and unspoilt vistas, giving you the chance to see dolmens, archaeological sites, natural parks and other amazing attractions.
The "Ciclovia dell'acqua" (literally, the "bicycle path of the water") is another beautiful itinerary that goes from Figazzano (a suburb of Cisternino) to Ceglie Messapica, boasting breath-taking views of the Itria Valley. Your stunning ride will see you cycle among trulli, farmhouses, olive groves and karst caves. The route owes its name to the fact that it runs along a section of the Apulian aqueduct: it represents the first part of a project that is eventually planned to stretch for 250 kilometres.
Enjoy nature and tradition in our houses for sale in the Puglian countryside!
Besides the natural beauty, you will also have an opportunity to taste typical food. For example, don't miss Cisternino's famously delicious meat or a "panino" from Ceglie Messapica: a kind of hot-dog filled with tuna, olive oil, strong provolone cheese, capers and mortadella. At this point you might start to wonder whether the experience is still healthy, but there are some foods you absolutely have to sample.
So, come and live in one of our homes for sale in the Puglian countryside and experience a new and exciting lifestyle.
Contact us for a quote!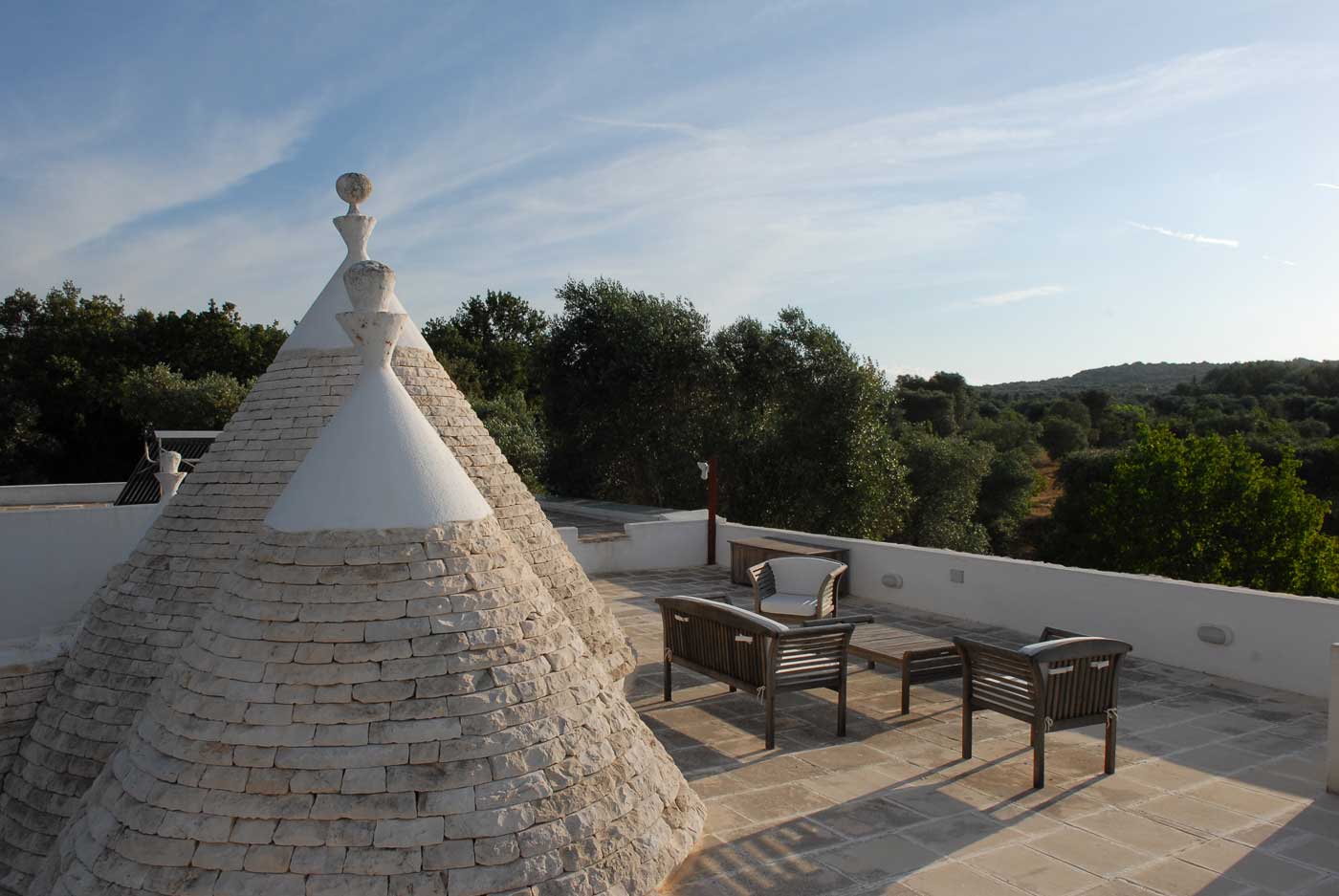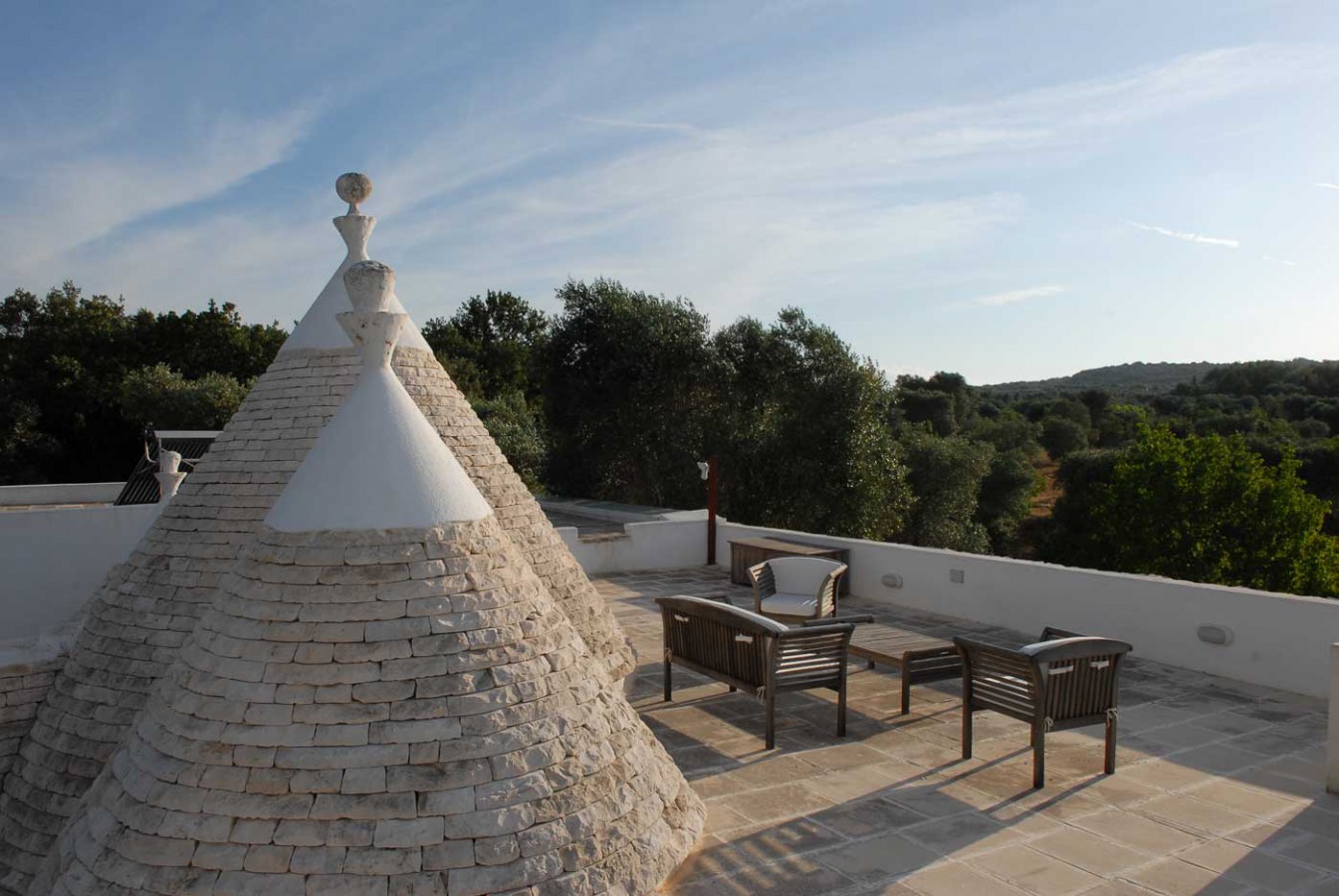 Elegant country properties for sale in Puglia, among the wonderful olive groves
A quick glance at the Apulian countryside is all you need to understand that olive trees are undoubtedly one of the landscape's most characteristic elements.
The region may well be the area with the highest number of olive groves in the world.
You can see it with your own eyes at our country properties for sale in Puglia.
Here, nature is home to countless species of plants, trees and flowers… in short, the Apulian countryside is pure magic.
However, olive groves are not mere decoration: the amount of olive oil produced in Puglia accounts for 40% of Italy's entire production, which means that olives play a key role in the regional economy.
Olives are so typical of this area that many different types of olive oil are produced: Puglia is home to four DOP areas of protected origin.
The taste of Apulian olives and olive oil is special and it's not by chance that people from all over the world appreciate this product so much.
Olive trees and olive oil have extremely ancient origins and have always been considered precious: in 2500 BC the trade in olive oil was already flourishing and the product was used as an ointment and medication, while the branches were used to adorn the tombs of pharaohs.
Olives and olive oil today play an important role in the Mediterranean diet because they offer many healthy properties and benefits. Olive oil is used to preserve and season vegetables and other dishes (as well as olives). It is also used to prepare many typical recipes, such as orecchiette, focaccia and bruschetta, to name but a few!
Experience a new lifestyle in our countryside houses for sale in Puglia!
If you purchase one of our homes for sale in Puglia, you are choosing not just to come and live here: you are also choosing to discover the essence, traditions and magic of this wonderful region.
What are you waiting for? Contact us for a quote and live your dream!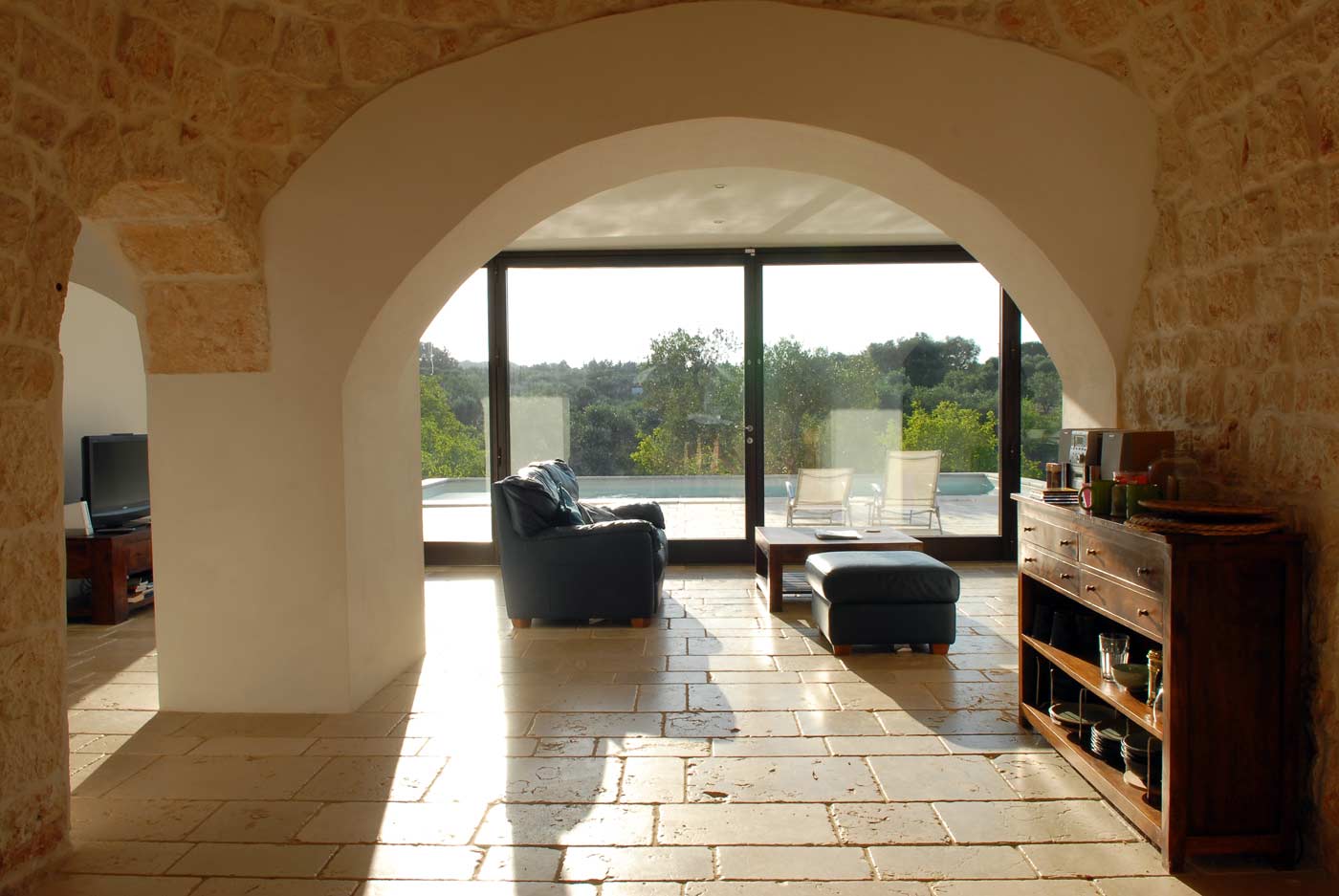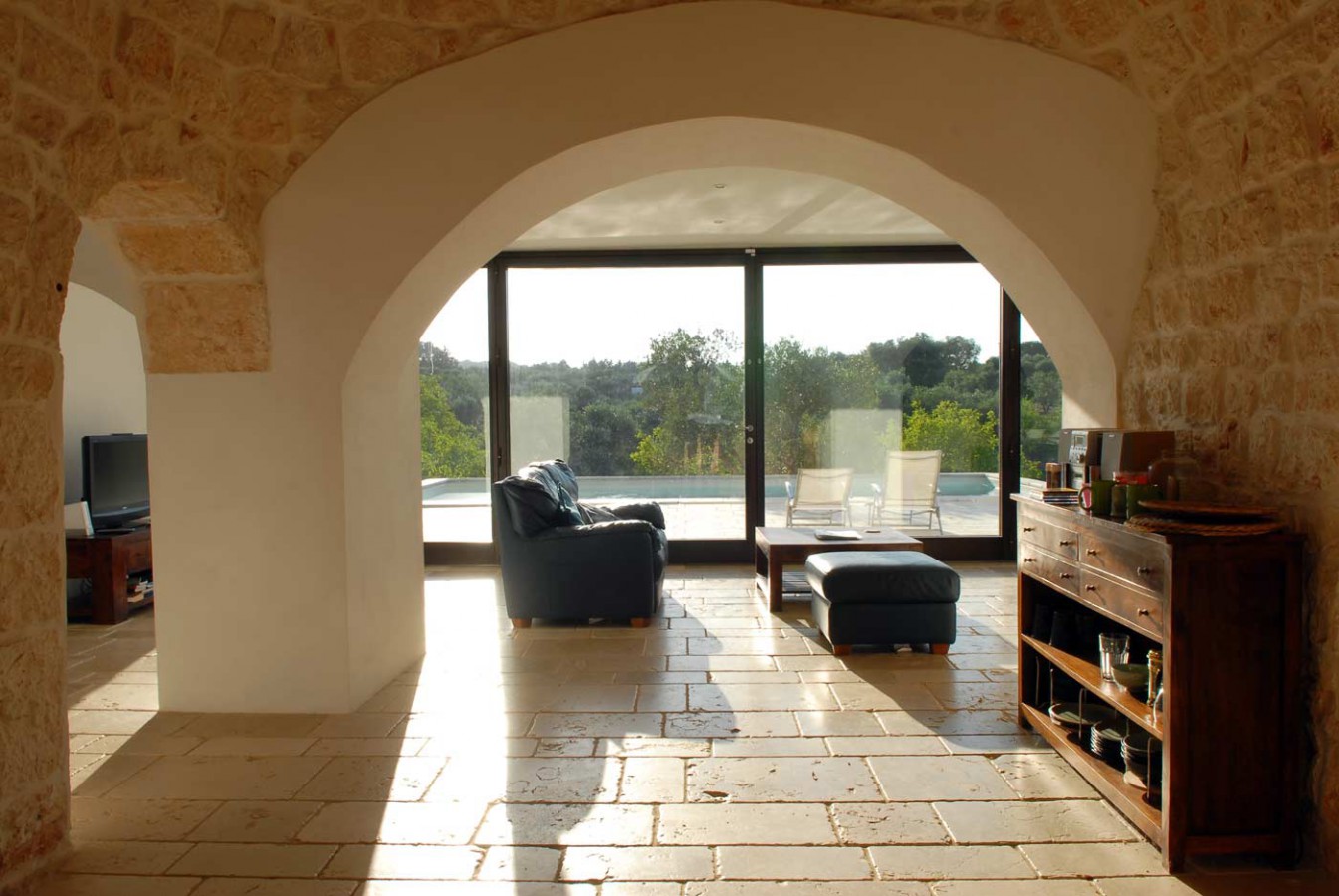 Country houses for sale in Puglia: have you ever considered changing your lifestyle?
The amazing views and landscapes of the Apulian countryside have magical powers: they can lift your heart and mind.
With sparkling colours, fragrant scents and relaxing sounds all around you, it's impossible to feel sad or worried. So, it's time to think about looking for modern country houses for sale in Puglia!
The country life is perfect for recovering your inner balance, peace of mind, zest for life and general well-being.
In fact, living in the countryside can also have a positive impact on your body.
There are countless activities you can do while surrounded by unspoilt nature in order to keep in shape, but above all… …you're in Puglia, the land of fine food!
Enjoy everything you need for correct nutrition while benefitting from healthy foods, naturally tasty produce and simple, delicious recipes.
You must have heard about the famous Mediterranean diet, typical of Southern Italy, which even became UNESCO heritage listed in 2013.
This diet includes a variety of foods and nutrients, which is exactly what makes it so healthy.
Cereals, pulses, fruit, vegetables and olive oil represent the main food groups; the consumption of fish, dairy products and wine is recommended in moderation, while meat is kept to a minimum.
A positive impact on health depends on the high consumption of vegetables (which reduces feelings of hunger) and a perfect balance between the nutrients. Several studies have shown that this way of eating can reduce the risks of cancer and heart disease. Blood pressure is lowered as well as levels of cholesterol, triglycerides and sugars in the blood. The consumption of cereals prevents constipation and colon disorders and, generally speaking, the Mediterranean diet provides our body with all the proteins, vitamins and minerals we need.
Apulian cuisine offers countless ways to combine these ingredients to create delicious recipes: your palate will be satisfied while your body, health and shape will be grateful.
If we were you, we'd start searching for beautiful country houses for sale in Puglia right now.
You see, living in Puglia is always a good choice, even when it comes to food!
The landscapes and stunning views make life in the countryside truly magical.
Add a special house with a modern style and all the comforts of a townhouse and it's hard to believe that a life like this could be real. But it is!
So, don't hesitate any longer! Contact us for a quote.
Modern villas for sale in Puglia: a peaceful life in the unspoiled countryside
The rapid progress we've witnessed in recent decades appears to be a good thing and people are convinced that their lives are better than before.
It is certainly true, but… we bet we all sometimes feel as if something is missing: the happiness of smelling a flower, the smile brought about by birdsong, the astonishment we experience when we look at the sky, the love we feel when we cuddle a cat… we miss the simple little things.
Life is more and more chaotic and we frequently find ourselves thinking about relaxation…
As we go about our everyday business, we fantasise about lying on a sun lounger by the pool while sipping our favourite drink, listening to our favourite music or reading our favourite book. We think about fantastic villas, perhaps with a patio for dining or enjoying a glass of wine outdoors with our best friends on hot summer evenings…
That's exactly what our modern villas for sale in Puglia can offer
Contact us for your real-estate investment in Puglia
Apulia Property Design is in the business of making these fantastic dreams come true, helping you feel as if you have been transported to paradise.
Our modern villas for sale in Puglia are designed by highly-qualified professionals who work with meticulous care and attention to create unique spaces. They are able to meet all your requirements. Do you want your country house to have the same style and comforts as your urban pad? Or do you want to go back in time and live in a house with stone walls and floors?
One thing is certain: when you look out of the window, you won't believe your eyes. The beauty of the landscape is so outstanding that you might think you were looking at a painting hanging on a wall rather than a window.
But when you go outside, you can see for yourself that everything is real: you can sit down on a stone bench, surrounded by soft cushions, and admire the nature all around you, the flourishing meadows and lush gardens… you might even think you were dreaming!
Contact us right away and let Apulia Property Design make your dreams come true.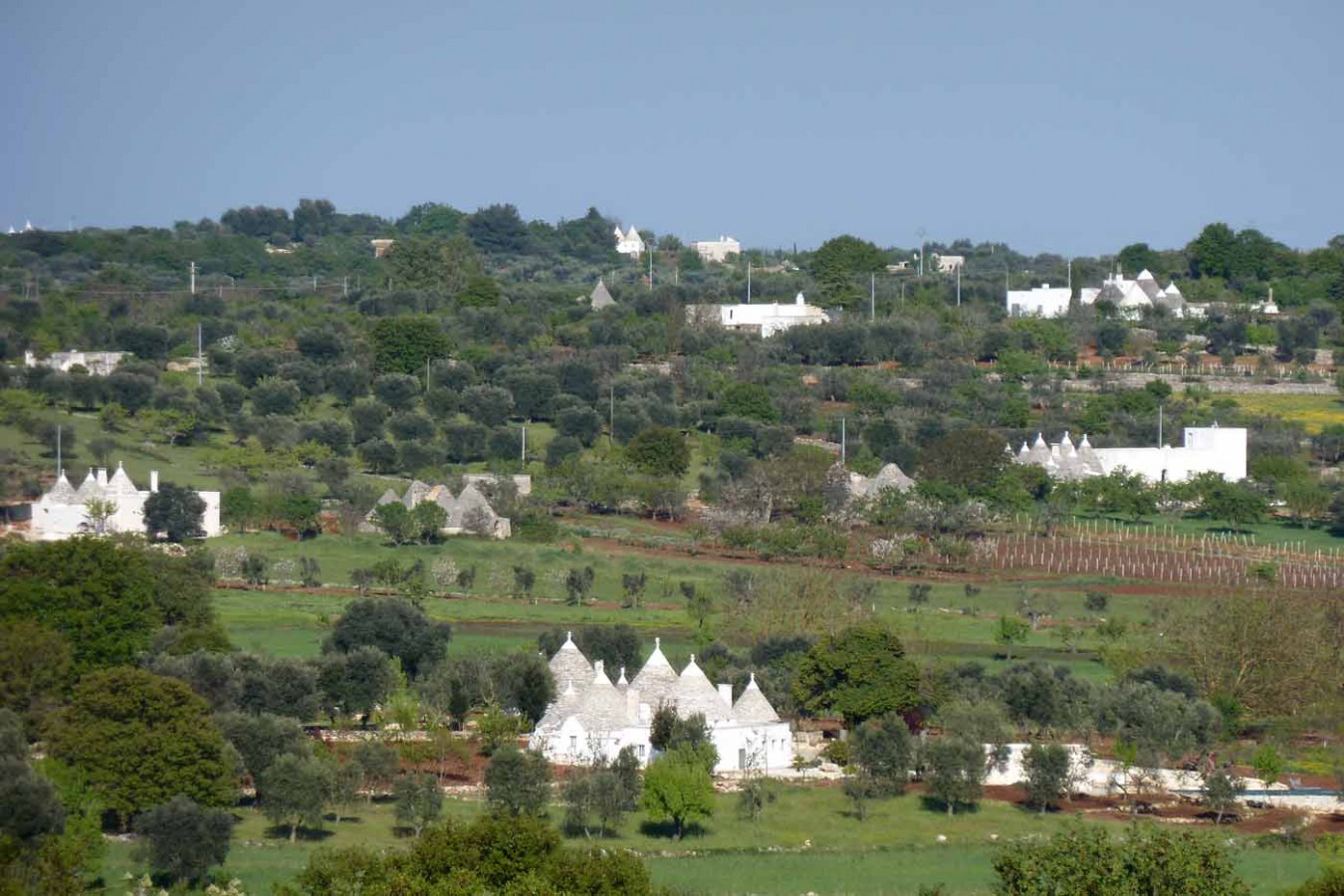 Modern homes for sale in Puglia: original projects in a special setting
It's no coincidence that we've chosen wonderful Puglia as the place to bring our projects to life. We really do love and appreciate the beauty of our region, so rich in vegetation, sunlight, stunning landscapes and fantastic towns and cities.
There are so many architectural gems to visit and so many beautiful things to see. People from all over the world know it well and fall under Puglia's spell every year.
Many of our modern homes for sale in Puglia are within reach of the main centres, giving you the chance to explore five of Italy's twelve "white towns".
Ostuni, an unusual spot situated on three hills in the province of Brindisi, is undoubtedly the most important, with its fully whitewashed historic centre. It is said that the lime, which works as a natural disinfectant, played a decisive role in saving the town from a plague epidemic during the 17th century. This "sea" of white is very picturesque, both in the morning, with the sunlight, and at sunset, when the walls of the buildings reflect the warm colours.
There are also plenty of whitewashed buildings in the circular historic centre of Locorotondo. Wander among its arches, staircases, alleyways and balconies, embellished with flowers and plants with vivid colours that create a beautiful contrast with the white walls.
We also recommend a visit to Cisternino, which has been categorised as one of Italy's most beautiful villages. Getting lost among its alleyways full of unusual buildings is an exciting experience that everyone should try. Cisternino is also popular and well-known for the quality of the excellent meat served in its restaurants.
A few kilometres away, in the province of Taranto, lies Martina Franca, a jewel of Baroque and Rococo architecture.
Last but not least, Ceglie Messapica has a medieval historic centre with a Swabian tower and a wonderful castle. The whitewash was used here to brighten up the town's narrow streets.
These are just the main features of these amazing towns but there are plenty of other corners to see and explore; it would be impossible to cover them all here. The only answer is to come to Puglia and discover it all for yourself!
What if you fall in love with the cosy, warm buildings you see and feel like making your home here forever?
Just get in touch with us and we'll do our best to make your dream come true.
Our modern homes for sale in Puglia also include typical buildings that have been redesigned, renovated and equipped with all modern comforts.
Wouldn't it be magical to live in a trullo?